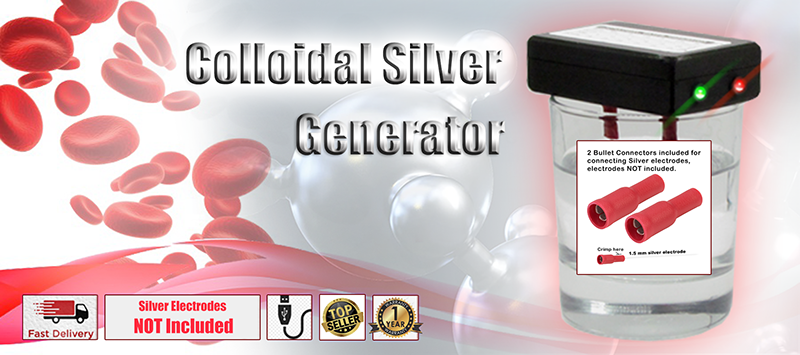 Colloidal Silver Generator – With or Without Silver Electrodes

(Takes 1.5 mm Silver rods.)
(Silver Rods/Electrodes are not included)

Create your own colloidal silver with the Silver Generator. Our easy-to-use device produces high-quality colloidal silver in minutes, so you can enjoy the natural benefits of this powerful mineral supplement. Get started today and experience the power of colloidal silver.
This device works on safe USB 5 volts and has a built-in
Power up Module to take it to 25v, ideal volts for Generating

Colloidal Silver. 
A great accessory for any first aid kit and or

medicine cabinet. 
The unit weighs just 34g and 49g with the
USB cable, so is very portable. 
It can run off any USB outlet
including wall adaptors, PC, Car Cigarette lighter adaptors
and 
Battery packs, So is great for all occasions, even if the
mains power goes out, you can still 
use this device in times
A fantastic little device for the price. Fast Tracked delivery via Royal Mail
 Contents:
Colloidal Silver Generator Unit

USB Cable to power the device

2 Red connectors for the Silver Electrodes. 

(Electrodes NOT included)

Cleaning pads for the Electrodes. 

(Electrodes NOT included)

User Guide

1 year Warrantee
No returns once opened due to health and safety issues.
Fast Delivery, We only use Royal Mail.

Frequently asked questions. 
1) What quantity of water can be done in one go?
Any quantity, But all the times are for 100ml of water.
2) How long does it take?
100ml of distilled water running for 30mins=6ppm, 45mins=10ppm, 1hr=13ppm, 
1.5hr=16ppm, 2hr=18ppm,
2.5hr=19ppm, 3hr=20ppm
3) How long do the silver electrodes last?
It depends on how often it's used, if you use 1.5mm x 63mm Then the rods can last 
years with normal use,
most people will use it once a week or once a month. 
The rods can be replaced if needed, so no need to buy the whole unit again.
4) Can i use tap water?
NO never use tap water not even filtered/purified tap water, ONLY use distilled water.
5) How do i power the generator?
The device comes with a USB lead and all you have to do is plug it into a USB socket 
like from a Laptop, a PC, a Car Cigarette lighter adaptor, a wall adaptor, and many more.
We suggest that you do your own research whether colloidal silver may or may not help you. 
We sell this kit for individual experimentation only, & no medical claims are made whatsoever.
This product has not been evaluated by the Food & Drug Administration. 
This product is not intended to diagnose, treat, cure, or prevent any disease.